With over 70 wineries within the county, selecting which wineries to visit and wine taste at can be quite the decision-making process. We have highlighted some of our local wineries and encourage you to visit El Dorado County and enjoy everything this area has to offer!
Planning an event, wedding, or simply wine tasting is an unforgettable and beautiful experience at Gold Hill Vineyard in Coloma, CA. Started in 1980 by Hank Battjes, Gold Hill's claim to fame is their award-winning Bordeaux varietal red wines and Chardonnay. Gold Hill also offers Italian and Rhone varietal wines, and their cellar holds over 3,500 cases of wine!
But the fun doesn't stop at the wine at Gold Hill. Since 1999, Gold Hill has been brewing seasonal beers periodically with their seven-barrel system. Along with its wine and beer, Gold Hill offers delicious food, live music, and even chair massages! Visit Gold Hill Thursday through Sunday 10 am to 5 pm, and get directions here.
First opened in 1974 by the Boeger Family in Placerville, Boeger Winery is one of our very well-recognized and favorite wineries. The property itself is one of El Dorado County's historical claims to fame, as it was developed in the mid-1800s. With both historical and updated structures on the property, Boeger offers a taste of the past, present, and future. The cave (built in 1872!), along with the vines that date as far back as the 1800s add to Boeger's rich history. The property has picnic areas for relaxing and enjoying the day, events, a visitor's center, a gift shop, and a tasting room.
The Boeger family prides itself on sharing great quality wine. The vineyard grows 90% of the grapes that are used in the wine, ensuring a delicious, quality product. Boeger is open for complimentary wine tasting daily from 10 am to 5 pm and is only a 45-minute drive from Sacramento, making it an easy and convenient day trip as well as an unforgettable experience.
Situated in Camino, CA Madroña Vineyards is near Apple Hill, nestled in the Sierra Nevada foothills. Madroña's exceptional mountain elevation vineyards offer perfect growing conditions for the full range of Rhone and Bordeaux varietals they grow here. Well-drained soil and mild temperatures throughout the year produce grapes with mild acidity and optimal maturity. This distinctive fruit creates the perfect foundation for their unique family of estate-grown and bottled wines.
Regularly providing entertaining events, Madroña is known for its delicious wine and beer pairing dinners. Passionate winemaker, Paul offers lots of information on his wine-making process, providing updates on the growing and harvest seasons, as well as providing insight into wine-making itself. You can read those updates here. It's open daily from 11 am to 5 pm, and you can tour the vineyard and sip on deliciously crafted wines. Get more information about visiting Madroña here.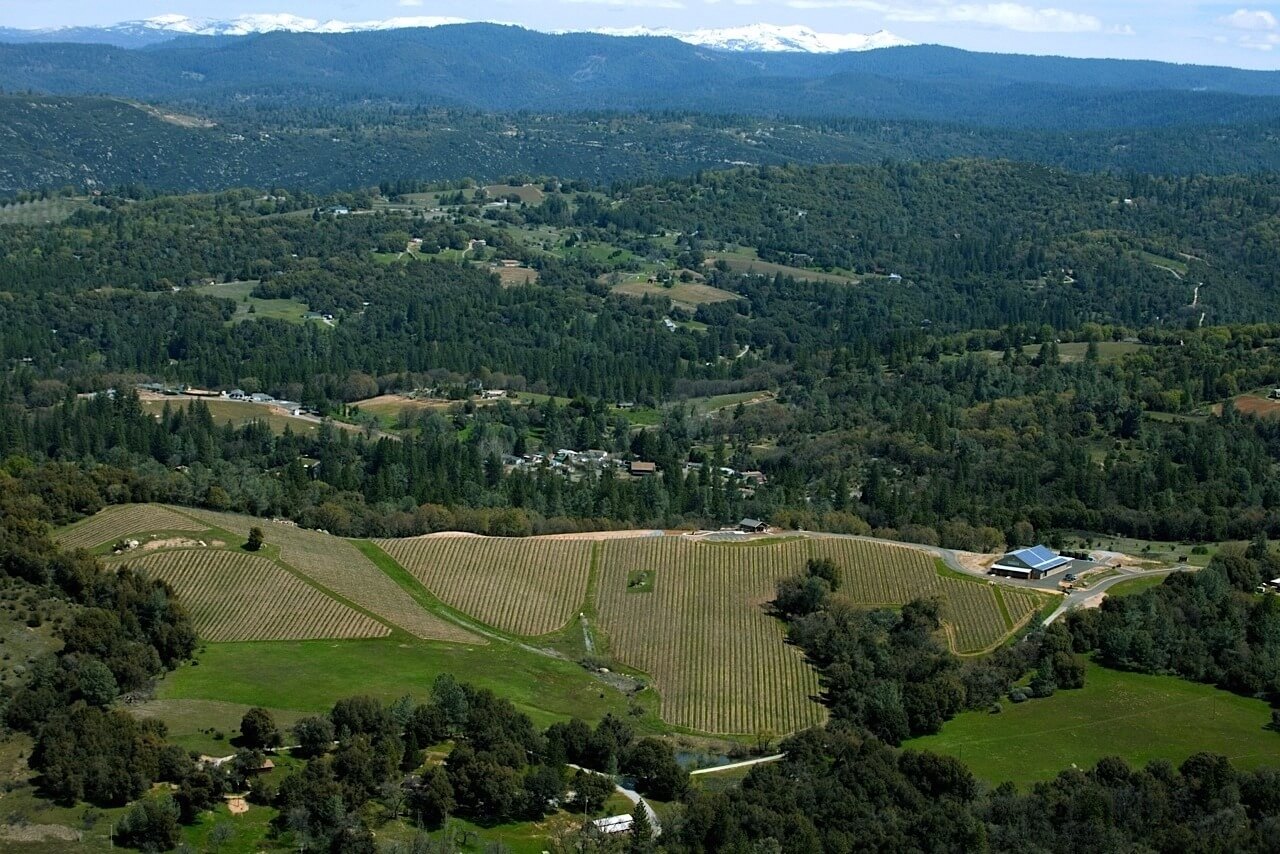 In 1861, Mike Skinner's great-great-grandfather, James Skinner, established Skinner Vineyards. In 2006, Mike Skinner purchased the property upon which Skinner Vineyards is now situated in Fairplay, CA, and has become of El Dorado County's premier wine tasting destinations. Skinner shares hand-crafted Rhone-inspired wines, Skinner has been featured in Wine Spectator, The San Francisco Chronicle, International Wine Cellar, The Rhone Report, and more.
"Our ties to the past are clear, but our hopes for the future are what drive us. We believe in the importance of treating the environment with respect – that's why our winery is solar-powered and constructed from 80% recycled steel. We integrate sustainable practices whenever we can, from reducing pesticide use and clearing brush with our resident goat herd to protecting and preserving the animal habitat in the vineyards." said Mike.
Only 30 miles from Lake Tahoe, Sierra Vista Vineyards is on top of Red Rock Ridge in the Sierra Nevada foothills. Open daily from 10 am to 5 pm; Sierra Vista Vineyards is an easy selection to add to your day trip or weekend getaway. The vineyard is proud of its Rhone varietal wines and uniquely experiences four different microclimates. Sierra Vista has won numerous awards from El Dorado County, the California State Fair, the Orange County Fair, as well as Amador County.
In 1979, Sierra Vista planted Syrah, whose lineage traces to Chapoutier's vineyards in the Northern Rhone appellation of Cote Rotie. John MacCready made a study comparing the northern Rhone Valley to El Dorado County. He found that much of the El Dorado appellation is very similar to the northern Rhone Valley in climate, rainfall, and soil type. Because of this, Sierra Vista's emphasis has been on the development of Rhone varieties. Syrah, Grenache, Mourvedre, Cinsault, Viognier, and Roussanne are the grapes Sierra Vista grows, from which they craft Rhone-style blends.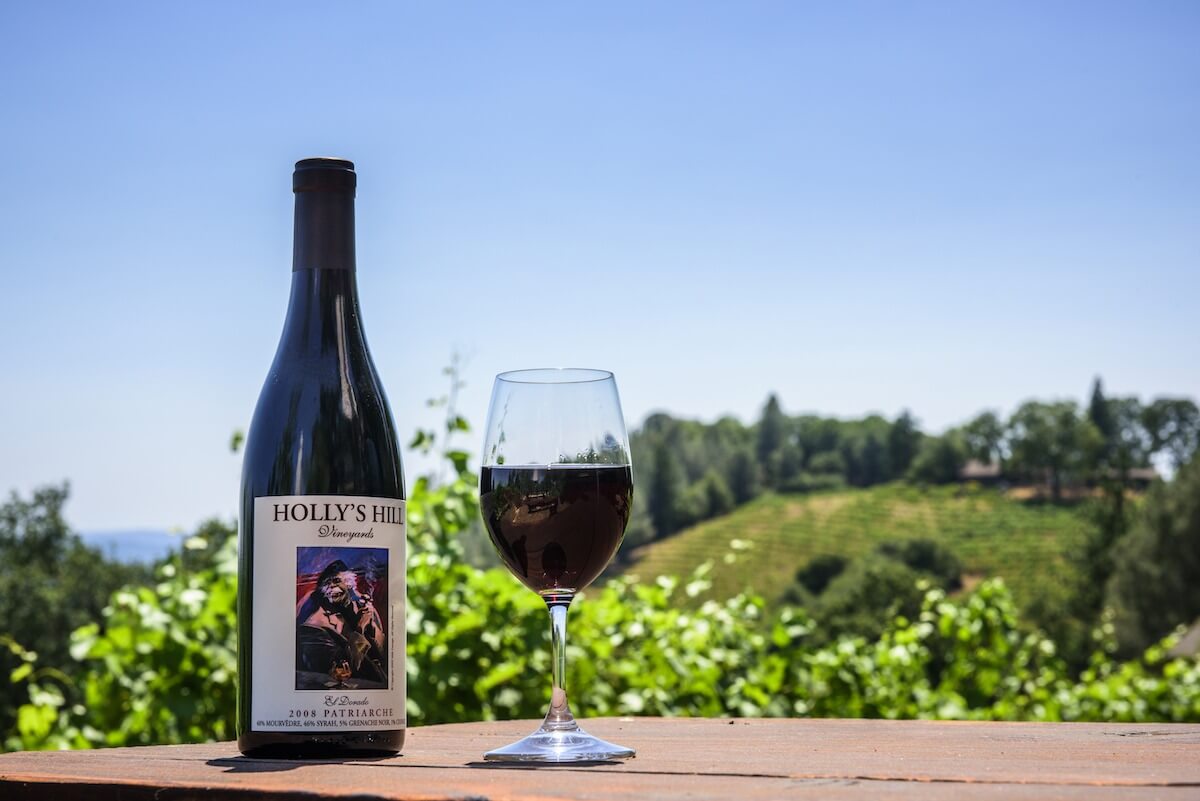 Specializing in Rhone-style wines, Holly's Hill Vineyards grows Viognier, Roussanne, Grenache, Mourvedre, Syrah, and Counoise grapes. The winery produces varietal wines, a dry Rosé, and red and white blends. The enthusiasm for Rhone varieties at Holly's Hill started when Tom and Holly Cooper (owners) shared their first bottle of Chateauneuf du Pape on their honeymoon. It's been a love affair ever since. Learn more about the owners and winemakers here. Located in Placerville, Holly's Hill offers tastings of 15 types of wine.
Dubbed "a winery to watch" by the Wine Spectator, Miraflores offers a tasty and unique experience in their Mediterranean-inspired tasting room, which overlooks 40 acres of estate vineyards. Enjoy a variety of imaginative events at Miraflores, including art in the vineyards, concerts, chef-led cooking classes, and locally grown farmers' markets.
From June through October, Miraflores offers a "PAIRINGS" series, which includes chef-prepared lunches perfectly matched with Miraflores' award-winning wines on their covered terrace overlooking estate vineyards.
Take a look at the other vineyards and wineries El Dorado County has to offer here.