So, you there, the one lacing up your boots. We've got a few memorable spring hikes for you to check out.
Top photo: Dog playing in the water near Bassi Falls. Photo courtesy of Gibson Visuals
Bassi Falls
Located in the Eldorado National Forest off Ice House Road near Placerville, this 100+ foot waterfall is well worth the short hike. It's approximately 1.2 miles round trip from the parking lot, a combination of dirt trail and granite. Be sure to walk to the base of the falls so you can see it in all its glory. Note that in early spring there may still be snow patches on the ground, so plan accordingly.
Hiking level: Easy to moderate
Dogs allowed: Yes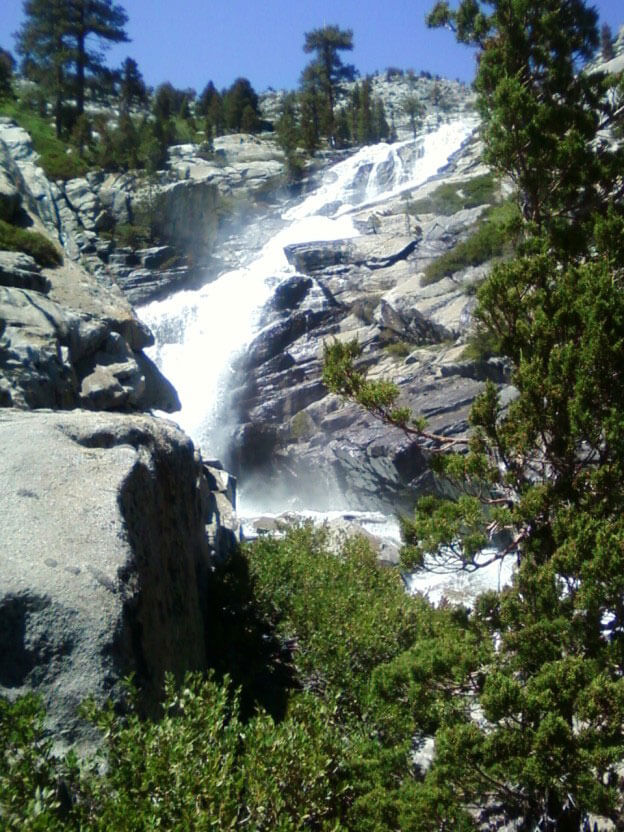 Horsetail Falls
A little further up Highway 50 from Bassi Falls is Horsetail Falls, a dramatic 800-foot waterfall flowing down the glacier-carved granite of Desolation Wilderness. The first part of the hike, along granite fields, offers beautiful views as it takes you to the base of the falls, which can be a destination unto itself. It quickly becomes strenuous as it ascends up 500 feet along Pyramid Creek. The second part of the hike is for experienced hikers with orienteering skills, as the trail is not clearly defined.
Hiking level: Moderate to strenuous
Dogs allowed: Yes
Eagle Falls
Lake Tahoe has no shortage of beautiful scenery, but waterfall lovers know to head to Emerald Bay, where a short hike results in the spectacular Eagle Falls, which feeds into Emerald Bay. From the Eagle Falls trailhead, it's a 5-minute walk to the bridge that gets you up close and personal with the falls. Continue up the trail for another .25 mile to Eagle Lake, where you're surrounded by towering granite.
Hiking level: Easy to moderate
Dogs allowed: Yes
Cascade Falls
Another gem of a waterfall hike located at Emerald Bay by the Bayview campground, this hike promises views from the top of the rushing 200 foot Cascade Falls, with views of Cascade Lake below and Lake Tahoe beyond. The approximately 2-mile round trip gently climbs up and contours above Cascade Lake. Experienced hikers may want to continue past Cascade Lake into Desolation Wilderness to Azure Lake.
Hiking level: Moderate
Dogs allowed: Yes