Gold Discovery Ranch
385 State Hwy 49
Coloma, CA 95613
Our fully renovated 1938 Coloma Cottage is only two blocks from the South Fork American River and James Marshall Gold Discovery Park. The cottage easily accommodates four people in two bedrooms with a separate full bathroom. A complete kitchen, cozy living room, and separate dining room are included. You'll enjoy the expansive deck for outside dining, string lighting for evening fun, and more. Darts, horseshoes, and corn hole ready for playing or relax on the hammock out front. Plenty of parking.
Madrone Tree Hill
2600, Barkley Road
Camino, CA 95709
Stay in our romantic miner's cabin for two or sleep under the stars in the foothills of the Sierra Nevada mountains. This 50-acre family-owned property is located in the heart of Apple Hill. There are two streams that run through it, with a hill that separates them. It is a working Christmas tree farm that was started in the 1960s and now has many trees that are too big to fit in anyone's home but provide an unbelievable canopy for some of our campsites.Half the property is covered in a pine forest (with some secluded campsites) with the balance being Christmas trees, Manzanita brush, Madrone trees, and open areas (for larger group campers). There are trails throughout the property for visitors to enjoy. There is an Apple Farm across the street that makes the best donuts in Apple Hill! Less than a mile away is a farm brewery and there are wineries throughout the area. There is also a large lake nearby that is a favorite for local kayak and canoe enthusiasts.
Coloma Cottages
5941 New River Rd.
Coloma, CA 95613
Historic 1947 cottages located on the bank of the South Fork American River, these one and two bedroom, fully furnished cottages are an ideal place to stay for your romantic getaway or gold country adventure!
The Crush Pad
401 Fairplay Rd.
Somerset, CA 95684
The Crush Pad is a two bedroom two bath home in the heart of the Fairplay wine region. Built in the 1940's, the house sits on Oak studded lands with a seasonal creek and is surrounded by vineyards and wineries including its own 7-acres of Zinfandel.
The home has been carefully restored to its original state with metal roof, fir floors and board and batten redwood siding. It is rustic and masculine with feminine sensibilities; gourmet kitchen, BBQ, large flat screen TV, eat in kitchen, patio dining, and more. Wrap yourself in all the finest linens that you would expect in a luxury hotel: Egyptian cotton towels, high thread count bed sheets and linen duvets. One minute drive to Toogood Winery and the Fair Play Pub, and easy access to all that Fair Play has to offer.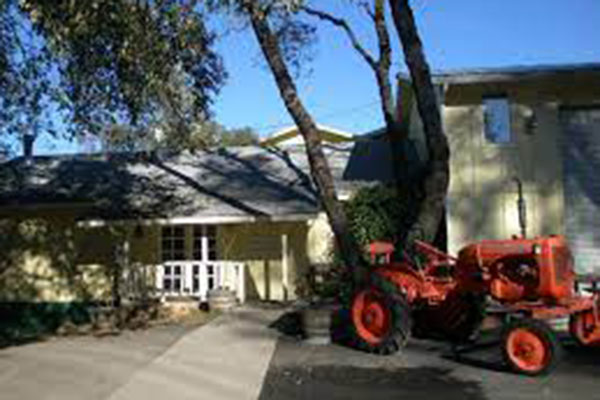 The Winemakers Guest House
8221 Stoney Creek Road
Somerset, CA 95684
Located atop a hill overlooking our estate vineyards, the Winemaker's Guest House offers a private bed and breakfast experience with two rooms and kitchen, a gorgeous view of the Sierra Foothills, and of course, quick access to the winery and all the wine your heart desires. The Guest House is available year-round and offers the perfect place to stay in the Fair Play region.
Casa Manzana
2201 Larsen Drive
Camino, CA 95709
In the heart of Apple Hill, Wineries, and Breweries, this newly remodeled vacation home is the perfect getaway from the regular day-to-day that overlooks a small vineyard and pond.