Check out our top family-friendly activities in El Dorado County this Thanksgiving.
Visit a Gold Mine
Pack a picnic lunch (turkey leftovers optional) and head to the Gold Bug Mine and Park. This genuine gold mine, situated on 60 acres, is offering extended hours during Thanksgiving weekend. Take a self-guided audio tour of Gold Bug Mine or walk off that extra helping of pie on the Deer Hollow Trail. This interesting and educational self-guided walk explores the park's unique mining history and how the landscape and natural habitats were altered in the quest for gold. The stamp mill, museum, and miner's blacksmith shop will all be open as well.
>> Gold Bug Mine – Open Friday, November 25 – Sunday, November 27 from 10 am to 4 pm.
Watch the Festival of Lights
The Festival of Lights in Historic Placerville is an annual family-friendly tradition that's a great way to kick off the holiday season! The old-fashioned festivities will close Historic Main Street and feature music, entertainment, visits with Santa, and more at various locations up and down Main Street. The tree lighting begins at 6 pm at the Courthouse.
>> Festival of Lights – Runs Friday, November 25 from 4:00 pm to 8:00 pm.
Get a Christmas Tree
Get a leg on the Christmas season by getting your tree. Make it a fun outing and visit one of the Christmas tree farms in El Dorado County (think hot drinks, kiddie train rides, and more). If you're looking for more adventure, you can cut down your own tree (but be sure to secure your permit early, as they do sell out!).
>> Christmas tree farms in El Dorado County
>> Christmas tree permits in El Dorado County
Explore the Quilt Trail
Load up the car and make a game out of who can spot the most barn quilts along the bucolic backroads. Not your typical quilt, barn quilts are hand-painted public works of art that adorn and complement old barns, historic buildings, gardens, and other locations in El Dorado County. Discover these welcoming beacons of color (and history) for yourself.
>> Quilt Trail Map – Download your free map – and be sure to tag any photos you take with #ElDoradoCounty!
Experience Gold Rush History
Go back in time at Marshall Gold Discovery State Park. Pack the leftovers, bring Fido, and enjoy a stroll through history along the American River. Day use facilities, the Visitor Center, and Blacksmith Shop are open.
>>Marshall Gold Discovery State Park – Day Use Areas: 8 am – 5 pm. Visitor Center and Museum: 9 am to 4 pm.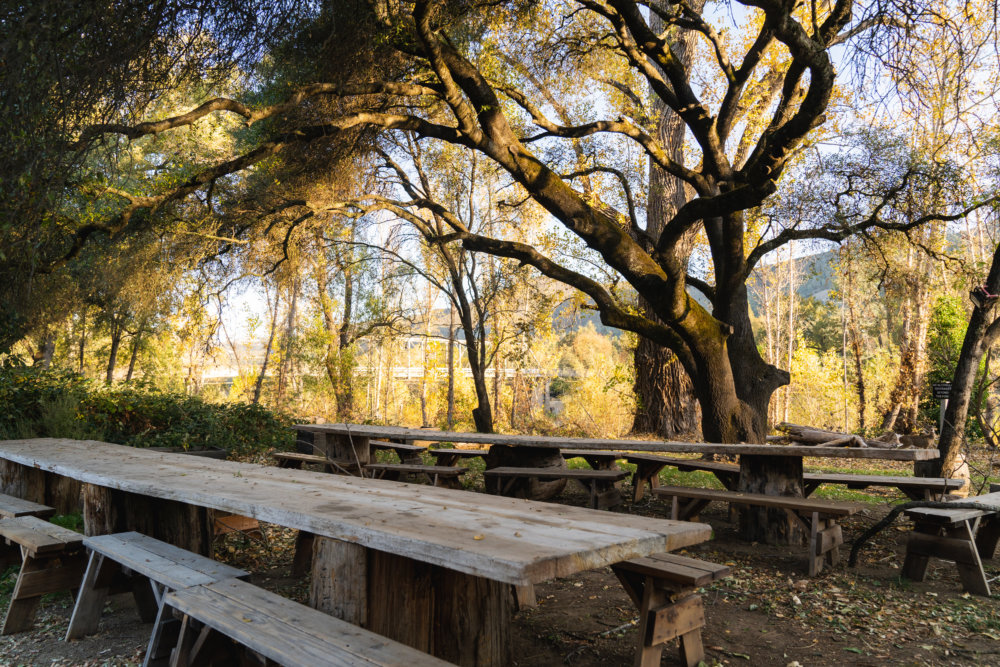 Take a Hike
Work off the holiday meal, enjoy some fresh air, and stretch your legs with a hike. You'll find numerous trails of varying lengths in the foothills and lower elevations, including the El Dorado Trail, Dave Moore Nature Area, and Cronan Ranch trail network.
>> Short hikes in El Dorado County
>> More hiking information
Watch a Movie Filmed in El Dorado County
Why not watch a movie (or TV show) that was filmed in El Dorado County – and take a road trip to see it afterward? Find a list of shows shot on-location here.
Discover more holiday events and activities in El Dorado County.